VP SPRING GOLF OUTING GRACES IDYLLIC DUNSTANBURGH
31st Mar 2018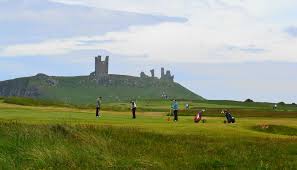 After the deluge, on Sunday 24th March, 15 ventured up the Northumberland coast to be a present during a very popular Captain's Day at idyllic Dunstanburgh Castle GC. After the customary bacon roll & coffee, 5x 3bbbs set off led by Nigel Campbell, Alan Fletcher & James Ruddick ,who finished 3rd with a very creditable 73 points, featuring 40 on the back nine. Two to score per hole, Stableford points.
Second to tee up were Chris Campbell, Peter Crane & James Brown, who compiled 66 points with a bold 7 at the Castle hole. Third away were Colin Belfield, Graham Bruce & DDS, whom, helped by an eagle 2 at the par 4 5th by Graham, amassed 80 points & emerged winners on the day. Graham scored 23 points on the front nine.
Fourth away were Dave Thompson, David Martin & John Ruddick who amassed 70 points including an excellent 7 at the par 4 8th. Last away, & eventual runners up on 76 points, with 40 on the inward half, were Chris Harker, Stuart Latimer & Mike Tait. Regular strong scoring throughout except the 2nd.
A most convivial day with lovely weather, albeit a stiff breeze in parts but very little fairway waterlogging, ended with the traditional soup & sandwiches & a presentation of golf balls to the 1st , 2nd & 3rd placed threes.
We are indebted to Chris Harker for arranging the very competitively priced venue whose customer service & catering was exemplary, to Stuart who travelled from Bristol, to Graham all the way from Cambridgeshire, & to all those who responded to numerous text messages, for being taking part ! The smiles on entry reflected the warmth of shared remembrances. (Slats horizontal at extra cover as he thwarted Richie Richardson in a cup tie at Gateshead Fell !!!. Pecker's sixes to win cup finals.)
We plan to play again in early October. There is a possibility that Close House may be available. More on that soon. The cricket season starts, one week later than planned, this weekend. !! Hope to see you soon.
Author: Duncan Stephen