U13 Girls win dramatic Regional Final of Lady Taverners Cup
30th Jul 2019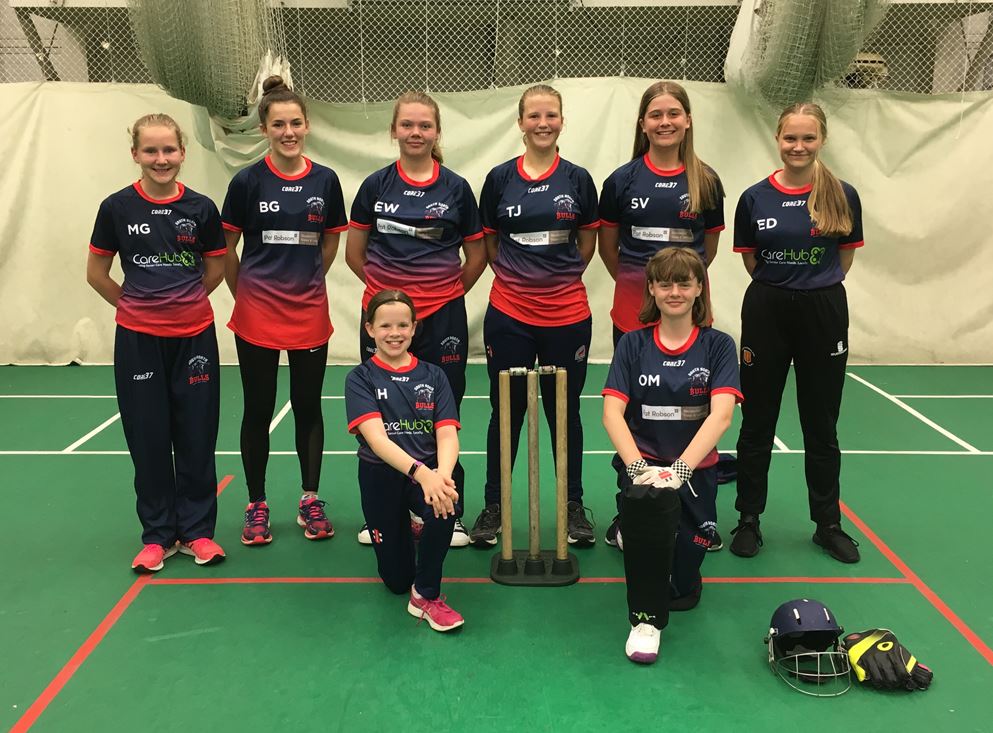 Congratulations to our U13 Girls team, supported by Pat Robson Estate Agents, who have reached the National Final of the Lady Taverners Knockout Cup Competition after a tense and rather nerve-wracking evening on Friday night at The Bull Ring.
Our opponents, Leyland Cricket Club, made the journey up from Preston ahead of a 5pm start time. Unfortunately, literally as they walked through the gate the thunder and rain started and this continued for the rest of the evening. When it was clear no play was possible a decision was made to take an early tea and the two teams agreed to play out a 2 over Super Over in the Cricket Centre in order to decide the result. This started straight after the U9 junior session at 8pm.
Both teams nominated 2 bowlers to bowl the 2 Super Overs and 4 batters. Leyland won the toss and put South North in to bat. Openers Trudy Johnson and skipper Olivia Miller batted with real intelligence, running excellently between the wickets and working the balls into the right areas to maximise indoor cricket scoring. 14 runs were scored in the first over. A good yorker from the impressive Leyland captain saw Olivia depart and in came Emma Walsingham to continue the good work and the girls added another 8 runs to set Leyland a very competitive target of 23 to win.
Trudy opened the bowling and under considerable pressure, and a watching noisy packed balcony, produced 6 excellent deliveries that the Leyland batter was unable to score off, leaving them still requiring 23 off the last over. Emma Walsingham bravely stepped up to bowl the final crucial over and Leyland found themselves needing 12 off the last 2 balls... A strong shot from their captain got through our fielder for a back wall boundary leaving 6 to win from the last ball. The final ball was hit hard but well fielded on the back walll and understandably in such a tense situation our bowling hero Trudy perhaps took an necessary shy at the stumps which resulted in overthrows - but fortunately for our girls, not enough to win the game. Phew! Leyland finished on 20 runs and we were through to the final. A special mention to Olivia who caught everything behind the stumps including a great one-handed take down the leg side, and to a team who performed their skills under immense pressure in what were exceptional circumstances. Well done girls!
The team now travel to Neston Cricket Club on the Wirral for the semi final and final on Wednesday 7th August with the ECB putting them up in a hotel with dinner and breakfast. And you know what? I think they deserve it! Very well done to our U13 team who continue to set new boundaries in girls cricket.
We wish them the best of luck in the final!