T2O DIVISION 2 BANKS CUP TRIUMPH FOR BULLS AT SUNNY SACRISTON: CONVINCING WINS OVER TYNEMOUTH & SACRISTON
T2O DIVISION 2 BANKS CUP TRIUMPH FOR BULLS AT SUNNY SACRISTON: CONVINCING WINS OVER TYNEMOUTH & SACRISTON
4th Sep 2018
Sunday 2nd September : Semi Final no 2.
Tynemouth 123-6 (20o) Chris Fairley 59*, Andy Lineham 21: James Ruddick 2-16, Cal Fletcher 1-21, Michael Harbottle 2-27, Ru Fletcher 0-22, Tom Hodnett 0-32.
South North 127-4 (17.5o) James Ruddick 62*, Ru Fletcher 36*: Graeme Hallam 2-13, Josh Coen 2-11.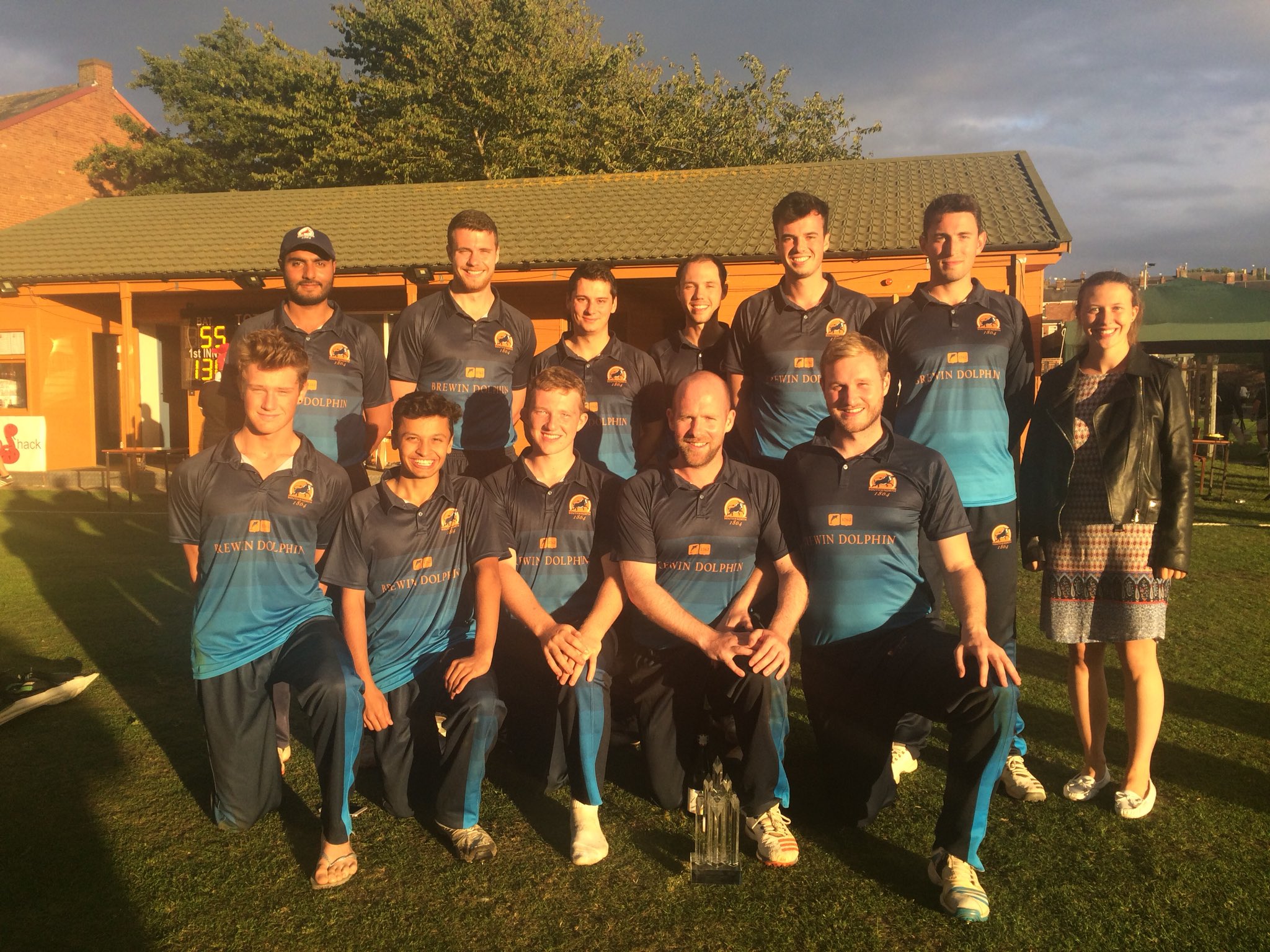 A sunny Sacriston welcomed T20 finals day on Sunday 2nd September. Sacriston had triumphed over Washington in the first semi final. At 1330 the Bulls won the toss & invited Tynemouth to bat. Tom Hodnett & James Ruddick opened the bowling against Niall Piper & Chris Fairley.
Direction was an issue for both Tom & James, 6 wides in 5 overs, but James settled & produced 4 good overs taking the wickets of Piper(7), a good low catch by Ru at mid off, then bowling Davison (5), 33-2 from 6 overs. W/k Parth Mannikar then stood up to Cal Fletcher & produced a delightful stumping as Sam Robson drove. The introduction of Michael Harbottle saw Graeme Hallam suffer the same fate from a leg side wide. 66-5 from 12. Magnificent !
Fairley (59*) was dealing mainly in singles & although Lineham(21) hit 3 boundaries he was well held by Tom Hodnett in the deep at 102 in the 16th. This became 107-6 as Koen failed to beat Ryan Sidney-Wilmot's throw from the boundary in the 17th. A scrambled 16 off the last 3 overs gave the Mariners a total of 123 after 20. SN's ground fielding was exemplary.
The SN reply got off to the worst possible start as both Hallam & Koen took two wickets each to leave the Bulls in disarray at 22-4 in the 6th. Brian (4), Drew (0), Inti (1), Alex (5). Repairs were then done magnificently by James Ruddick & Ru Fletcher who put together an unbroken 5th wicket partnership of 105 in 11.4 overs. James 62* (5x4, 3x6, 52b, 49 m) Ru 36* (1x4, 1x6, 37b, 39m). Sensible cricket, good running & when the spinners strayed, 6's & 4's were driven or pulled to mid wicket.
A win by 6 wickets with 13 balls to spare.
Final
Sacriston 130-6 (20o) Mark Fort 38, Jacob Bushnell 41, Ben Hall 32*: Tom Hodnett 1-26 (4o), James Ruddick 0-20 (4o), Cal Fletcher 0-16 (4o), Michael Harbottle 1-20 (4o), Ru Fletcher 2-44 (4o)
South North 133-2 (18.3o) Andrew Doig 37, Inti Fazal 55* Alex Weetman 18*: Ian Jones 1-24, Philip Peel 1-14.
SN won the toss & invited Sacriston to bat. The high quality of SN's ground fielding, especially in the ring, had been evident all day, & looking for a single from the 5th ball of the innings, the dangerous Ian Jones, backing up, failed to beat a direct hit from Alex Weetman at cover to the non striker's end. Marvellous ! James Milleresque!
There followed a partnership of 83 between Fort (38) & Bushnell (41) but neither threatened to get away such that when both fell at 84, to consecutive catches by Tom Hodnett & Alex Weetman in Ru's second over, only 30 balls remained. Brown (1) then perished as Tom took a second catch in the deep off Michael Harbottle in the 16th.
Ben Hall (32*) showed good intent with consecutive 6's when Ru overpitched & then over corrected but Dixon was run out without facing a ball, another Weetman direct hit, to the striker's end this time, & Adams was caught by Ru to give Tom a deserved wicket from the last ball of the innings. 130, gettable, a good start required.
Ryan (3) & Drew opened & although the former was bowled by a Jones leg stump yorker in the 5th, the score was already 28 as Doig took 10 from sla Scott's second over, including one effortless maximum. As in the semi final a sensible partnership took the game away from the hosts. Drew & Inti playing proper shots, placing adroitly, running well & punishing the bad ball severely. The score had reached 90 in only the 11th when, after launching for 6, Drew skied Peel's next slower one, to be c & B for an important 37 (3x4, 2x6, 30b, 37m).
Alex joined Inti & the pair saw the Bulls home without alarms & with 1.3 overs to spare. Inti 55*(7x4, 1x6, 52b, 45m) & Alex 18*(2x4, 1x6, 18b, 21m) finishing with a six to square leg from the slow left arm of Scott.
Two strong & satisfying performances from the Bulls. At various times in both games, different people took responsibility, tight bowling, superb wicket keeping from Parth mostly standing up, fast hands coping with some variable bounce admirably, vital partnerships from 5 different batters, a true team effort marked by outstanding ground fielding, a couple of rather straightforward dropped catches notwithstanding!
Captain Michael Harbottle received the new Banks T20 trophy from David Martin of the Banks Group. Inti Fazal was voted 'Man of the Final' by the umpires for his 55*. The sun still shone.
Well done the Bulls ! Let us finish well next Saturday please in the final league game at Boldon.
Duncan.