SOUTH NORTH GIRLS FINISH RUNNERS UP IN NATIONAL T20 LADY TAVERNERS CUP COMPETITION
9th Aug 2019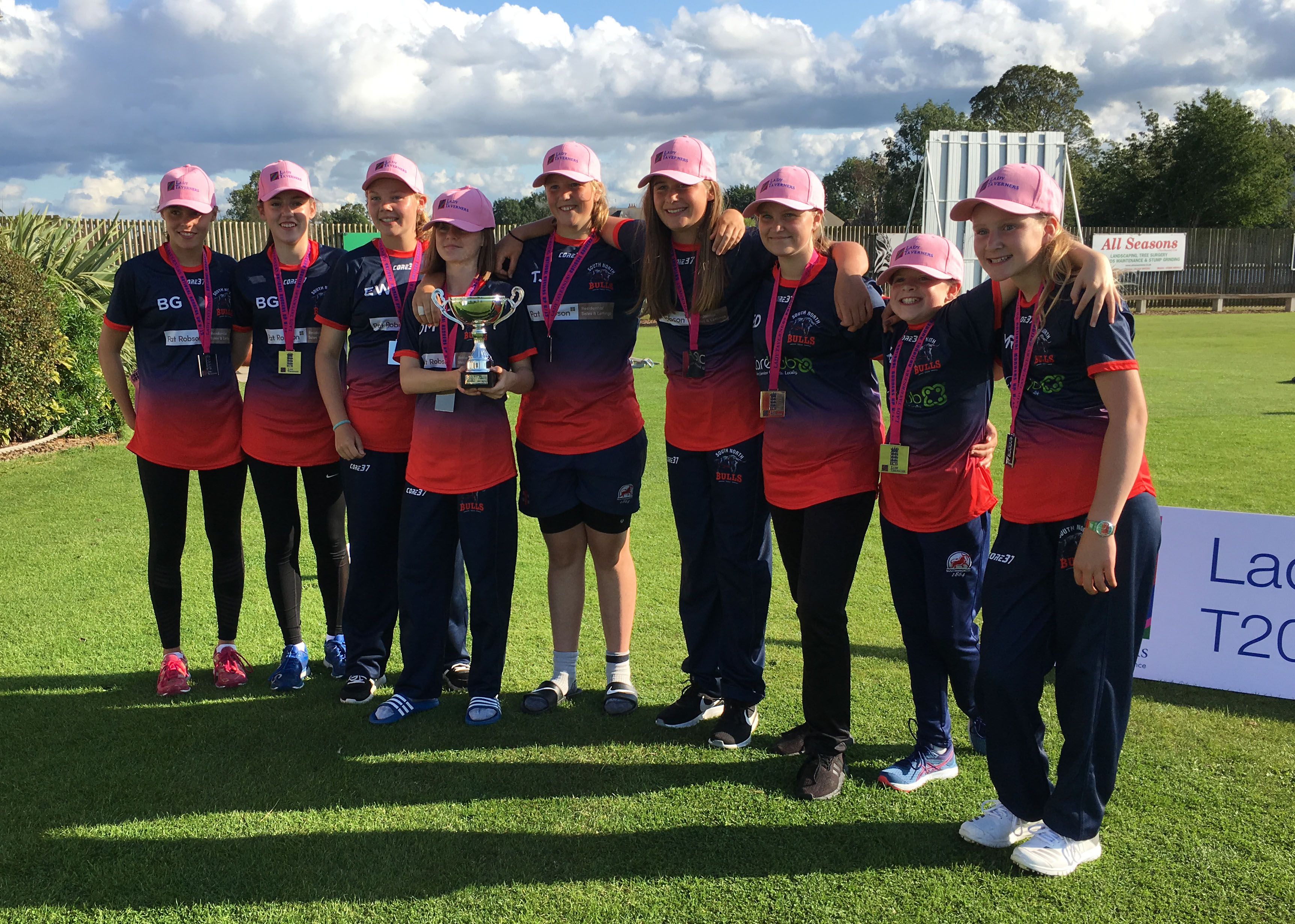 South Northumberland CC U13 Girls - National Lady Taverners Cup Runners Up.
From left to right: Olivia Harper, Scarlet Vaulkhard, Emma Walsingham, Olivia Miller (captain), Trudy Johnson, Sarah Vince, Erin Day, Isobel Helsby and Livvy Gardner.
Our U13 Girls ended their first ever Lady Taverners Cup campaign as gallant runners up at Neston Cricket Club on the Wirral on Wednesday 8th August.
The Pat Robson Estate Agents sponsored team found themselves as one of the final 4 teams from 97 clubs countrywide that had started out on the road to the final back in May.
At the kind expense to the ECB, the team and officials all stayed at the very pleasant Thornton Hall Hotel & Spa the night before, where an excellent dinner was enjoyed and a 'relatively' early night taken. After a good breakfast the team checked out and arrived at the Club ahead of a 9.30am briefing session for Team Manager Richard Miller.
Before the semi finals took place the girls had the opportunity to have a team photograph with the actual ICC World Cup Trophy!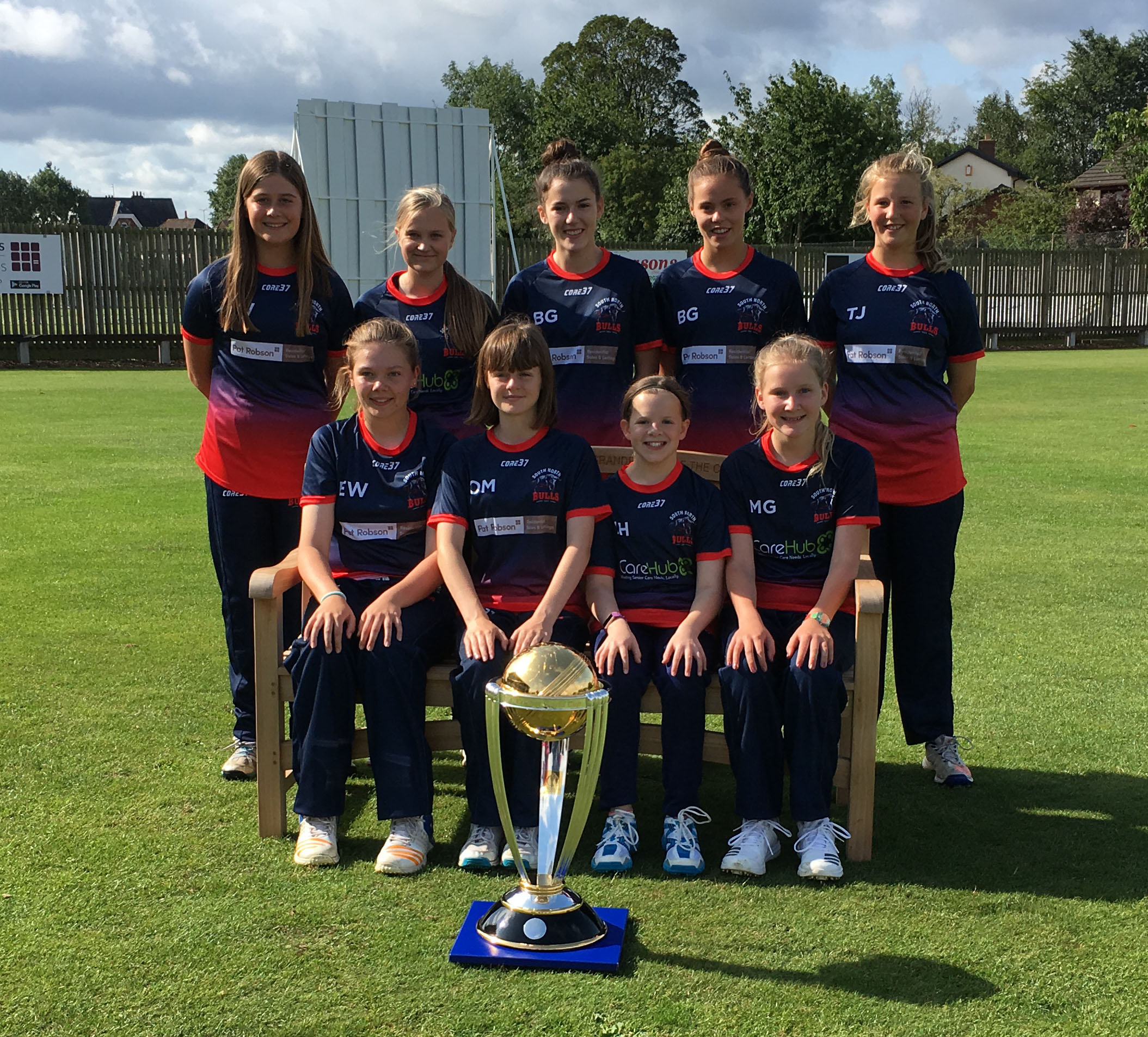 The girls walked out to their chosen walk-on music of 'Sweet Caroline' for their semi-final against Richmond CC of Middlesex. Skipper Olivia Miller won the toss and inserted the opposition - a policy that had worked well for the team throughout the competition. Against some very strong players, some of whom had received England recognition, we produced our best bowling display of the season with the competition's joint leading wicket-taker Sarah Vince taking 3 for 19. Erin Day took 2 for 17 including the scalp of the Richmond captain who was well caught by Scarlet Vaulkhard. The competition's other joint leading wicket-taker, Emma Walsingham, helped herself to a wicket before Trudy Johnson ended the Richmond innings on 65 all out after 17.1 overs.
The South North response got off to a difficult start with openers Olivia then Emma falling with just 14 on the board. However, in came Trudy at 3 to produce a devastating 50 not out off just 32 balls - an innings that included 9 fours. Fittingly, she hit the winnings runs and the girls were into the final!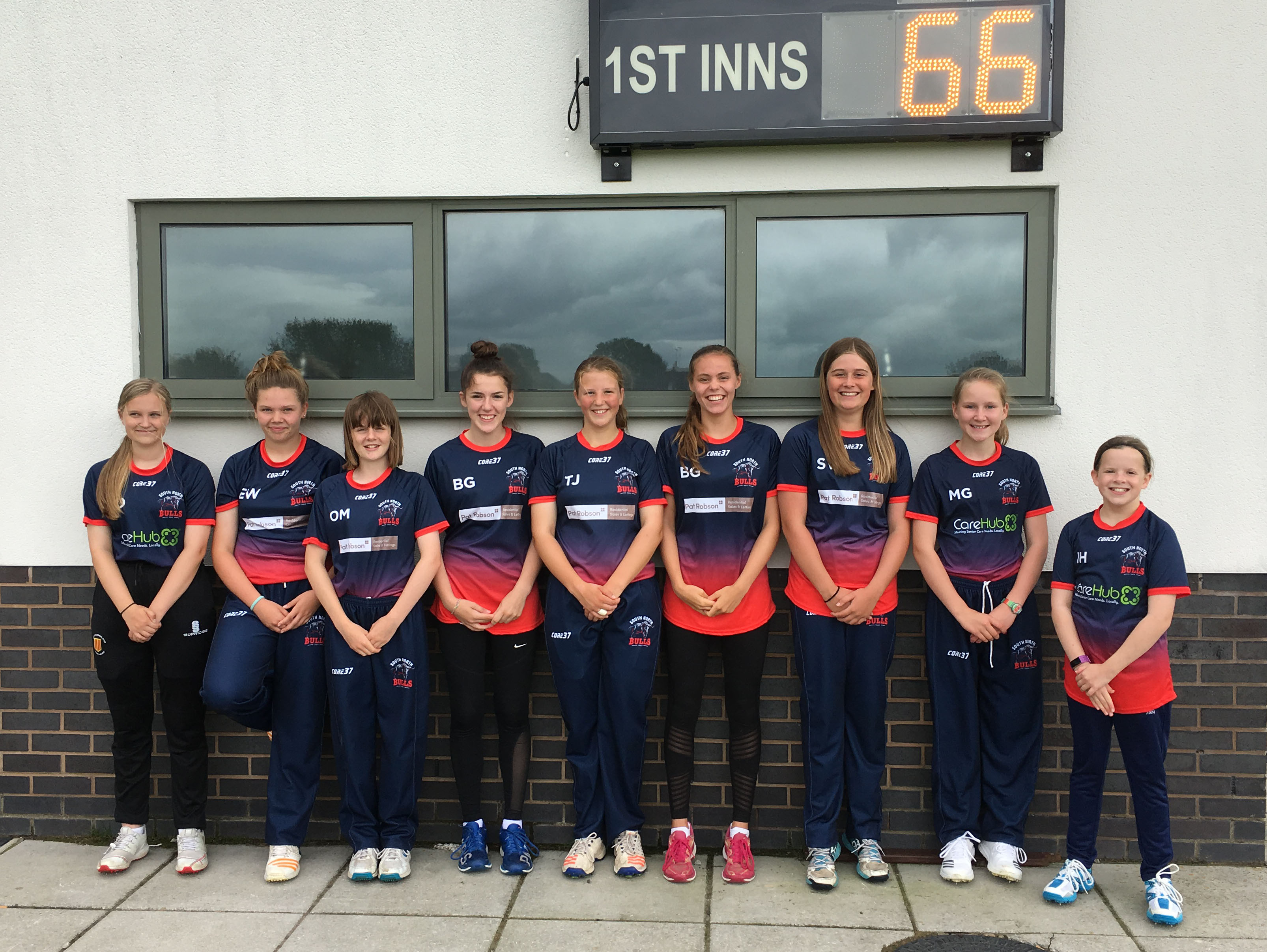 Trudy Johnson - 50 not out
A long lunch was taken and the players moved onto the main pitch for the final against Exeter CC, who had beaten Coton CC (Cambridgeshire) in the other semi. Olivia again won the toss and chose to field. The girls got off to a good start when Emma bowled their opener in the 2nd over but Exeter responded well and got to 34 after 6 overs. However, a bowling change sparked off a superb fightback from our girls as we took 5 wickets for just 11 runs either side of a 40 minute rain delay - 2 for Sarah (2 for 31) and 3 more for Emma(4 for 22). The game looked to be moving in our direction but an excellent last wicket partnership of 50 frustrated South North and when Livvy Gardner had the last batter caught behind the West Country side had posted 99 with their very competent opener finishing unbeaten on 67.
In reply, the girls got off to a steady start until Emma was caught & bowled (27-1). Unfortunately, Trudy was unable to repeat her heroics from the semi final and was bowled first ball. Olivia hung in and tried to build partnerships but when she was dismissed for 21 it was always going to be an uphill task for the less experienced batters in our team. We ended the innings 50 all out.
Take nothing away from Exeter who played with real determination but perhaps it was a bridge too far for our girls after such a superb effort in the semi final. There was obvious disappointment but a huge sense of pride in what they had achieved.
The girls have been a credit to themselves and to the Club during this big adventure and hopefully in doing so have put girls cricket at South North firmly on the map now.
VERY WELL PLAYED GIRLS!