Resounding Result for U15's in Willis Elliott Memorial Cup Final
29th Aug 2018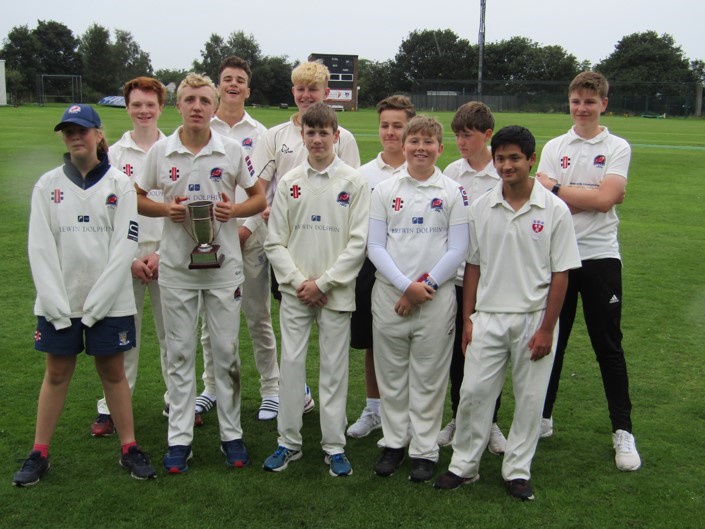 All the players and parents seemed reluctant and apprehensive on this early, chilly Sunday morning. This was the third attempt to play the U15's Willis Elliott Memorial Cup Final, after two previous cancellations due to the rain and today's weather forecast was 100% rain by mid to late morning!
SN won the toss and without hesitation, put Burnopfield into bat, hoping for a quick result.
Harry Clarke and Bobby Green opened with hostile bowling and in the third over reaped their rewards, with a smart catch by Guy Johnson (Cpt) at gully, to dismiss Burnopfield's captain and talisman, Mitchell Killeen. SN's bowling and fielding continued with ruthless efficiency and Burnopfield's wickets fell at regular intervals and were given few opportunities to score.
Burnopfield were all out after 19.5 overs, held to a mere 39 runs!
SN Bowling Figures
Harry Clarke O 4, M 2, R 7, W 2, A 3.5
Bobby Green O 3, M 1, R 3, W 1, A 3.0
Alfie Clarke O 4, M 0, R 12, W 2, A 6.0
Harry Jopling O 2, M 0, R 5, W 0
Guy Johnson O 4, M 2, R 2 , W 0
Adam Helsby O 2.5, M 0, R 4, W 1, A 4.0
Ably supported in the field by Ollie Mullarkey, Nat Varley, Rohan Rawat, Trudy Johnson ,Will Varley (WK) and substitute fielder Noah Clarke.
Bobby Green and Will Varley opened the batting with a clear objective, to score quickly and secure the victory before the rain arrived. Bobby and Will did not disappoint, with a clinical performance, they chased down Burnopfield's total in only 30 balls!
Congratulations to the players, parents and coaching staff – Well deserved. Also, a big thanks to all the other players that contributed in the earlier rounds of this cup competition.
Team Manager: Neil Johnson