REMEMBERING DEREK SEMMENCE SNCC 1973-1974
22nd May 2020
The 150th Anniversary book recalls " Derek Semmence's appointment as professional & coach at South North in 1973 was very well received by everyone & successful. 700 league runs at 46.66 top of the league averages, 617 runs for the County at 34.27 including two centuries, 104 v Durham & 103 v Cheshire. to be 4th in the MCCA averages, an outstanding season."
" Ably supported by Graham Heywood's 538 runs at 38.42, 2nd in the league averages & 'Batsman of the Year', & John Bradford's 323 runs at 33.30 & 63 wickets at 15.10, the 1st X1 finished 3rd in John Swan's only year as 1st X1 Captain."
A smiling & encouraging presence, Derek was not quite so successful for SN in 1974 but 417 runs & 29 wickets for the County were significant.
He left to begin a career as Head of Cricket at Hurstpierpoint College in Sussex , his home county, where he helped develop many high quality cricketers including Martin Speight, an SNCC player & General Manager between 2002 & 2010.
President of Worthing CC for 18 years, Derek played for & captained Sussex over 50's, 60's & 70's, winning 4 championship trophies, scoring 2230 runs & taking 105 wickets in 121 games between 1988 & 2013 & most latterly was a happy VP of Sussex Martlets.
John Barclay, former Sussex CCC captain & MCC President reflected " Derek was a wonderful man, fine cricketer & superb coach at Hurst & in India & always so generous, modest & understated. A great example to thousands of youngsters. A good friend who will be much missed".
With many others our thoughts are with Derek's wife Christine, son Mark, now Head at Repton School, daughter Jackie & all the family.
DEREK JOHN SEMMENCE (rh/rm) (b 21st April 1930 - d 29th March 2020), 81.
REMEMBERING LOVED ONES Derek Semmence, 81: First-class cricketer befriended by Indian royalty Saturday May 09 2020, 12.01am, The Times

Cricket


Asia


India


Derek Semmence in the 1950s when he played for Sussex COLORSPORT/REX/SHUTTERSTOCK Share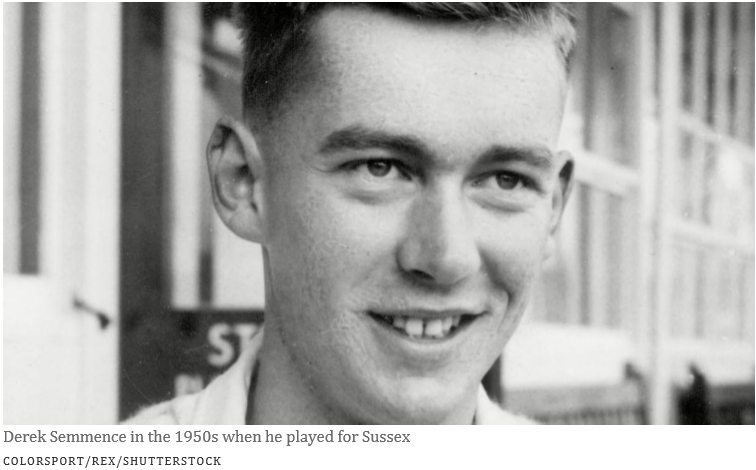 It was a cold day when the 16-year-old Derek Semmence first played for Sussex County Cricket Club as a professional in 1954 and, asked to open the bowling in a practice match, he could hardly hold the ball. John Langridge, the great Sussex cricketer, was batting and yet Derek's first delivery headed towards the mid-wicket boundary.
By the age of 17 he had made his first-class debut against Warwickshire, and at Lancashire had faced Brian Statham, who was bowling flat out (which was rare in county cricket) because he was keen to be picked to play for England against the touring Australians.
Aged 18 years and 85 days Derek scored a first-class century against Nottinghamshire at Trent Bridge and became the youngest man to score a hundred for Sussex, a record that remains unbeaten. During a lifetime involved with the game — whether in county teams, on the pitches of India or as the cricket professional for 29 years at Hurstpierpoint College in West Sussex — Derek played with and against the cream of cricket: Ted Dexter, Denis Compton, Colin Cowdrey and Jim Laker as well as Indian Test cricketers such as the Nawab of Pataudi, Hanumant Singh and Vinoo Mankad.
Derek was born in Worthing in 1938 to Jack, who ran a small business, and Kathleen (née Chaffer). His first visit to Hove to watch Sussex play against Australia in 1948 was as a ten-year-old pupil at Seaford College prep. He was taken by his father and, playing truant, happened to bump into his headmaster, a cricket fanatic and early inspiration for Derek. Nothing was ever said.
He went on to Shoreham Grammar School which he left early to play for Sussex — an academic loss that he always quietly regretted — and did his National Service with the RAF, joining the Combined Services cricket team at first-class level.
He returned to Sussex for a year but left after strained relations with the new coach to play for teams around the country: Essex, Devon and in the 1970s for Northumberland and Cambridgeshire.

Semmence going out to bat for Devon In 1959 a team-mate was the 21st Maharajah of Nawanagar, who was following in the footsteps of his cricketing forebears, Sir Ranjitsinhji Vibhaji Jadeja (known as Ranji) and Duleepsinhji, who both played for England as well as Sussex. For Derek the encounter and ensuing friendship with the maharajah, Shatrusalyasinhji (known as Sat), would greatly enrich his life. He was invited to India that winter as Sat's guest and spent the months playing cricket — on one occasion on the indoor tennis court of a palace — driving an E-type Jaguar and being put up at Pratap Vilas. The Renaissance-style palace had been built by Ranji for guests in the early 20th century.
When Sat married a Nepalese princess in an elaborate week-long ceremony watched by a crowd of 350,000, Derek took part in the procession. He carried a sword and walked with the family alongside decorated elephants and lancers on horseback. At one of the many wedding dinners in Delhi he was introduced to Jawaharlal Nehru, the first prime minister of India.
Thereafter Derek would embrace an idyllic lifestyle, spending his winters playing cricket in India and his summers in Britain. He returned to India nearly 30 times,
staying in palaces, joining maharajahs on weekend shoots including, with some discomfort, a tiger shoot. In 1971 he travelled around the country on a six-month honeymoon with his wife, Christine, whom he had met at a party in Worthing.
In 1974 he became the cricket professional at Hurstpierpoint and gained a reputation as a popular, impassioned teacher with an ability to bring out the best in a boy. Within a few years he had started to take the cricket team on tours to India, a pioneering venture in the late 1970s. The Indian spectators at the matches would run into the thousands.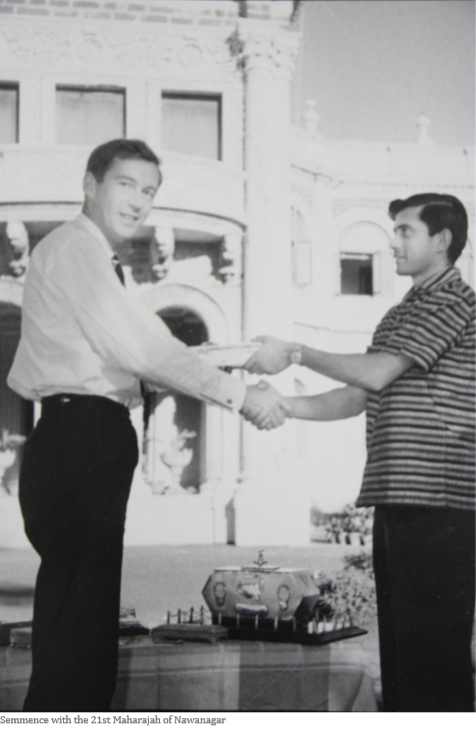 Semmence with the 21st Maharajah of Nawanagar
Aware of the hospitality he had received in India, and keen to reciprocate, he arranged for young Indian cricketers to play as club professionals in Britain or to coach in schools. Many were housed in the family home in the school grounds where Christine and Derek raised their two children: Mark, who is the headmaster of Repton School in Derbyshire, and Jacqueline, a clothing entrepreneur.
In the 1990s Derek set up a company with another member of the Nawanagar royal family — Devraj Sinh Jadeja — to take school tours to India. Derek's name was well known in Indian cricketing circles, and he was asked to coach the Rajasthan junior teams for Lalit Modi, the first chairman of the Indian Premier League, in Jaipur in the mid-2000s. He had also been asked to coach the Bangladesh national side in the 1990s. His son relates how last year a friend travelling in India struck up a conversation with a fellow passenger. When the talk turned to cricket the Indian asked whether he knew Derek Semmence.
In retirement Derek captained the Sussex Over-50s, Over-60s and Over-70s, which he led to four consecutive championship trophy wins. Derek's interests were not confined solely to cricket. He was a voracious reader of current affairs, liked tennis and was a good footballer. Even so, his happiest moments in recent years were, as vice-president of the Sussex Martlets, watching or playing cricket on the pitch used for county championships at Arundel Castle.