BULLS SEAL 12TH NEPL TITLE AFTER TOUGH WINNING DRAW AGAINST DETERMINED SACRISTON
3rd Sep 2018
SN 195ao (47.4o) Simon Birtwisle 43, John Graham 34, Adam Cragg 72*, Jonny Wightman 15: Callum Appleby 5-44, Will Gidman 2-54, Graeme Bridge 3-58.
Sacriston 185-8 (62o) Jonny Bushnell 66, Daniel Anderson 20, Reece Carr 22, Will Gidman 20: Liam Trevaskis 4-34, Jonny Wightman 1-59, Sean Tindale 1-35, Lee Crozier 1-32, Simon Birtwisle 1-16.
SN 13 points, Sacriston 8.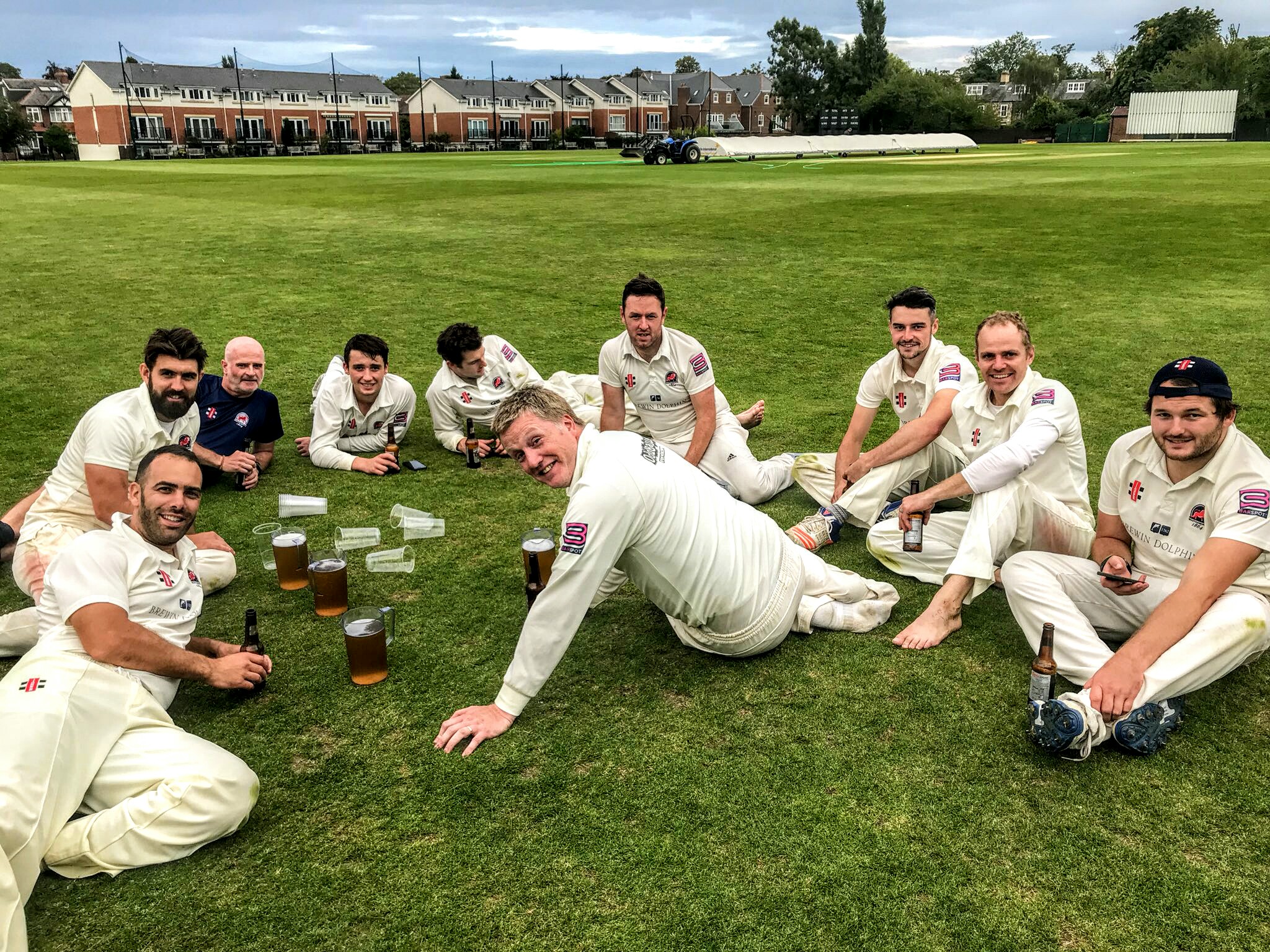 The sun shone, the ground looked a picture, the visitors, seeking points to avoid the threat of relegation, won the toss & asked SN to bat at 1145. Simon Birtwisle & Sean Tindale faced Callum Appleby & Will Gidman, free from Kent coaching duties, from the Park end.
After a brace of fours to both openers Gidman struck in his second over having Tindale caught by w/k Wrightson for 8. John Harbottle suffered the same fate in Gidman's next over, 24-2 after 6. John Graham joined Birty & the experienced pair defended resolutely, left with judgement & drove smoothly on both sides of the wicket when the ball was a touch overpitched.
Gidman (2-30 in 8o) was replaced by Callum Appleby joining Graeme Bridge who had begun a long spell from the Grove end where bounce & turn seemed evident. The score had reached 94, an excellent partnership of 70, when Birty (43, 8x4, 55b, 82m), having been dropped two balls earlier in the same place, was caught at first slip by Gidman pushing forward to Bridge. In Appleby's next over Graham (34, 5x4, 54b, 65m) left, only to see his off stump knocked back, 94-4. A rare misjudgement.
In his next 9 balls Appleby accounted for Trevaskis lbw, Peyton caught behind, & Dale, lbw, all without scoring whilst captain Adam Cragg watched. 5 wickets for 4 runs in 4 overs, 98-7 in the 24th. Not good if the target of 6 points required to seal the title was to be achieved!!
Michael Craigs (4) & Cragg took the score carefully to 123 before Craigs was lbw to Bridge, 123-8 in the 31st. Jonny Wightman joined Cragg &, showing good running & picking off the occasional loose delivery, the pair put on a vital 40 in 10 overs before Wightman (15), aiming a big drive, skied to backward point off Bridge. Lee Crozier joined Cragg (46*), nudged & drove whist Cragg smote a boundary an over & a six off Bridge such that the total had reached 195 in the 48th when Crozier(4) was adjudged lbw to Appleby.
This left Cragg 72*, an outstanding innings 11x4, 1x6, 97b, 107m, but importantly partnerships that yielded 97 crucial runs for the last three wickets in 24 overs to give the bowlers something to bowl at in the 62 overs available.
Wightman & Tindale opened up against Thompson & Anderson. Anderson's leading edge skied the second ball to wards extra cover where John Graham made good ground from mid off to take the catch only for it to bounce out. Jonny's first 2 went for 21, Sean's for 1, including another surprising missed chance at first slip by Liam. The score had reached 31 in the 10th when Thompson was lbw to Tindale for 16.
Crozier replaced Wightman & in his second over persuaded Anderson to mistime a drive to mid on where Trevaskis held a comfortable catch, 51-2 in the 13th. Carr, driving straight & Gidman, through the legside, lost no opportunity to score but at 69 Carr (22) was held by w/k Peyton off a bottom edge, trying to force Trevaskis's slow left arm. This became 80-4 when the left handed, Gidman lobbed to Cragg at mid wicket as one from Trevaskis bounced.
16 year olds Jonny Bushnell & Jack Adams then batted nicely against the spin of Crozier & Trevaskis. After 2 overs of seam from Michael Craigs, Birty replaced him at the Park end & in his second over Adam Cragg took an(other) outstanding catch at short extra diving to his right, one handed, inches from the turf, to dismiss Adams for 10.
Hubber joined Bushnell & greeted Wightman's return with a straight driven boundary. Two overs later he skied Wightman behind the bowler where John Graham, at full speed, ran 20 yards from mid off to take one handed catch over his shoulder. Stunning ! Back in the game at 123-6 off 37, still 25o to go to score 73 to win. As the light faded & the short ball to entice the hook was favoured there was concern that the conditions were unfavourable for the batsmen & the umpires took no action. The light then got better.
Wrightson defended but Bushnell looked increasingly assured in defence & drove delightfully through the offside. Crozier finished his spell, 15-1-32-1, in over 47 when the score was 146. Bushnell (44*)hooked to deep mid wicket off Tindale (15-5-35-1) where Liam, who usually has a safe pair of hands, moving to his left, got two hands to the ball but it didn't stick.
The 15 overs between 38 & 52 saw the total rise by 31 & when Trevaskis returned Wrightson swung & missed to be bowled for 7, 156-7 in the 53rd. Appleby then joined Bushnell & defended well. All hopes rested on Bushnell & his excellent innings came to an end when a firm drive was c & b by Trevaskis for 66 ( 8x4, 123b, 137m) at 175 -8 in the 59th. Thwarted by Cragg innumerable times when driving through the covers, this was an outstanding display of concentration, defensive skill & attacking shot selection, his highest league score of the season.
Keall resisted & survived another wonderful attempt by Cragg to take a flying catch in the gully off Wightman in the 62nd & last over. With all the field around the bat, Appleby steered the final two deliveries for 4. 210 minutes, 185-8, a honourable draw for Sacriston & a proper examination of the Bulls credentials as they earned their 12th NEPL title.
The celebrations continued for much of the night & will resume next Saturday 8th September after the final game v Felling, 1145 start. One more game to go & important to end the league season undefeated if at all possible.
Congratulations to all the team & grateful thanks to our supporters for their abiding interest in South North. Our sincere thanks too, to Bill, Susan & Janice whose catering is outstanding & to Craig & Liam who prepare the best ground in the region for our benefit. We are very lucky to have such dedicated service excellence. Also to John Tindale for his unstinting support for the first team in their practice, match preparation & between innings & for sharing his wisdom about the game.
For their benefit, the main performances so far are batting: Birty 560r, John 541r, Adam 644r, Sean 397r but many important cameos from others, bowling: Jonny 42w, Sean 33w, Lee 40w, Michael 28w, Liam 16w. Rob 25c 3st, catches: Adam 10, Birty 8, Liam 6, Sean 6, John 5.
Sunday 9th September sees the final of the Tyneside Charity Bowl at Tynedale 1st X1 v Consett, a T20 match from 1400. Also the Academy T20 Cup Final in which SN face an as yet to be determined opponent & location from c 1500 …….& the Great North Run !!
Everyone is invited to be with us at some point on Saturday 8th September when we hope the league trophy will be presented before play & a team photograph taken. A remarkable season in many ways.
Duncan.