BIRTY & HEWI SHINE AS ENGLAND 40+ DEFEAT WALES AT BROXBOURNE
26th May 2023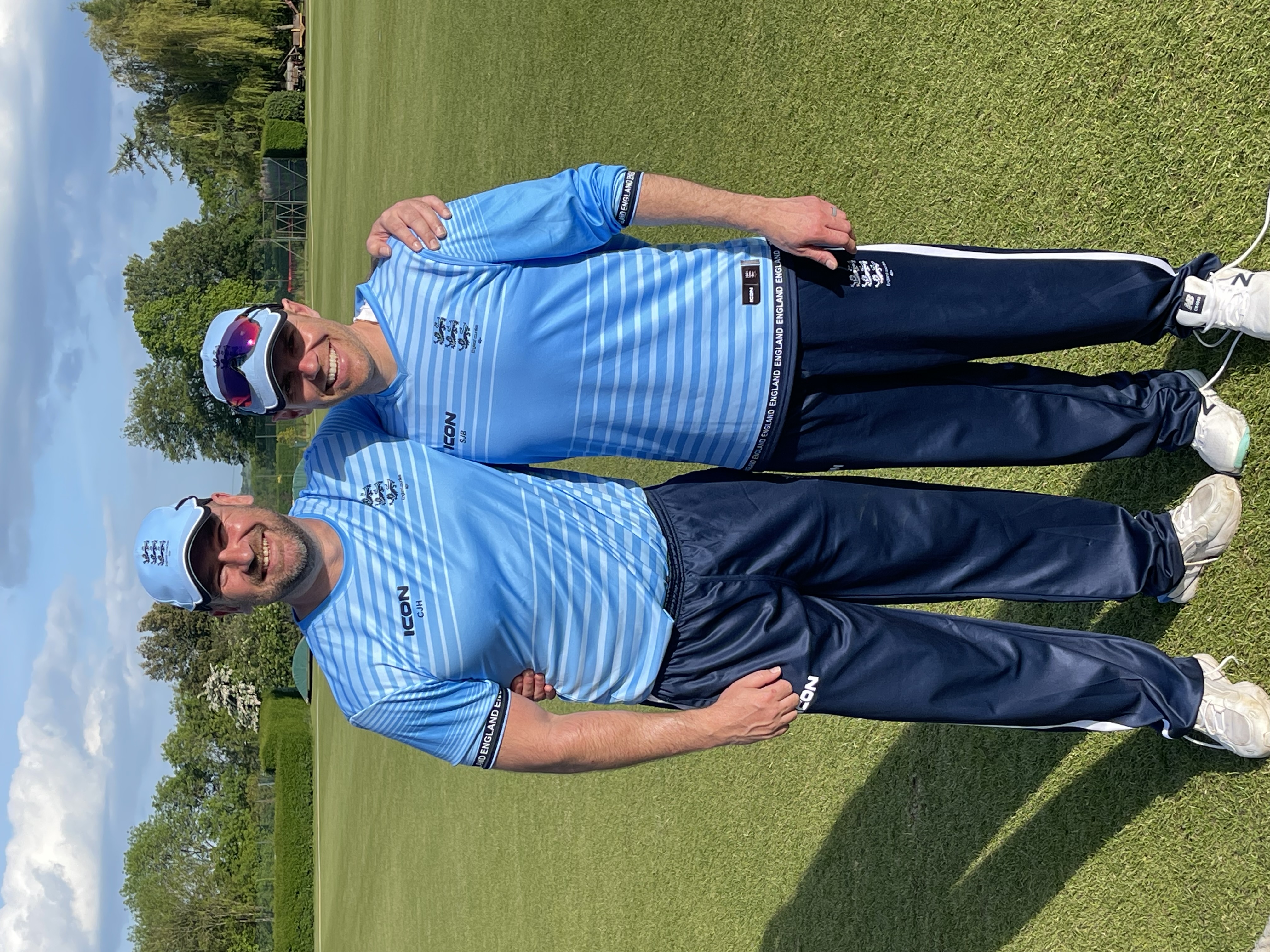 Tuesday 23rd May 2023: International Friendly: Broxbourne CC, Herts.
England 293-4 (45o) Adam Braddock 36, Simon Birtwisle 34, Chris Hewison 96, Darren Stevens 72, Royston Smith 20*, Simon Guy 13*: Matthew Smart 1-47, Owain Hopkins 1-8, Gareth Edwards 1-56, James Breese 1-27.
Wales 201-5 (45o) Michael Martin 45, Sion Morris 118: Mohammad Akhtar 2-44, Chris Swallow 2-33, Syed Zaidi 1-33.
England Seniors won by 92 runs.
Simon reflected" What better way to celebrate the privilege & pride of a first international call up than to be with someone, whom you played with for Durham County juniors when you were both 12 years old, & then to see him (Chris) do so well. " Their pleasure is captured in the picture.
A lovely day in Hertfordshire at Broxbourne CC, International Masters rules included the national anthems, Birty opened the batting with Adam Braddock. The partnership had reached 76 in the 16th when Birty, attacking, just failed to clear the tall Smart at mid-on, 34, (59b, 5x4), Hewi batted at 3.
Waiting to bat & chatting to Darren Stevens, most recently, ex Kent CCC all-rounder, at 4, revealed that on a South Africa Tour in 2001, Chris for Notts & Darren for Leicester played against each other in Johannesburg, a remarkable symmetry to be smiled at after so long.
At 84 Braddock (36, 46b, 7x4) was stumped off Edwards & Hewi was joined by Darren. The pair were in no trouble as the score rose swiftly with both finding the boundary regularly, 100 in 21.5 overs, 150 in 29. Chris reflected that there was some pressure in wanting to do well but Darren was encouraging to bat with & the stand blossomed.
Darren's 50 in (38b, 46m, 8x4) & Chris's 50 in (58b, 65m, 4x4 1x6). The 100 partnership for the 3rd wicket in 86b & 200 runs in the 34th over. Darren's explosive innings of 72, (40b 11x4, 1x6) came to an end at 216 in the 36th over, bowled by Breese: a splendid partnership of 132.
Hewi pressed on, hitting straight in trademark fashion, & a 4th wicket, a 50 partnership with Royston Smith took 36b in only 22 minutes. Chris's fine innings of 96, (82b, 7x4, 3x6), 21 of which came from overs 40 & 41, sadly ended in the 42nd at 270, lbw to Smart.
Smith & Simon Guy saw England to the close on 293-4, Smith 20*, Guy 13*.
The Wales reply was based on an opening partnership of 131 between Martin (45) & Morris (118) but in truth they were never scoring at the rate required against an accurate spin attack of Mohammad Akhtar's leg breaks, 2-47, Chris Swallow's off spin, 2-33 & Syed Zaidi's slow left arm, 1-33, resulting in comfortable win by 92 runs for England Seniors.
So, another 4-hour drive back to bask in the warm glow of an international debut win, a very pleasant day & team to be part of and a lovely photo memory !
We salute & offer our congratulations to Simon & Chris both for their selection & performance. Magnifique, mes amis! SNCC so proud of you both.
Duncan.