Pre Season Programmes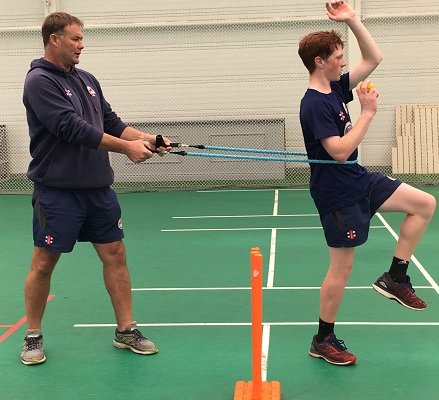 w/c 13th January 2020 - w/c 23rd March 2020
The North East Cricket Academy Junior Player Development Programme consists of 10 x 90 min sessions (Girls & Women 10 x 1hr sessions) specifically designed to challenge and improve young players who have ambition to play higher level cricket within their respective age range or indeed beyond.
The programme is designed by South Northumberland Director of Coaching Steve Chapman and supporting Level ECB 1, 2, 3 or 4 coaches will offer a diverse range of specific skills coaching to complement the skills the players already acquired by each player.
Players can expect a maximum of 26 attendees (U7 & U9 program is 40) on their respective age range course, which will ensure a low player / coach ratio to optimise player contact time.
15 hours (10 hours for girls and women) of net time & skills coaching covering all aspects of the game
Modern drills and practice methods as used by many current First Class Players
Strength & Conditioning aspect weekly
Bola Ball Machines
U7 & U9 Coaching Programmes
10 x sessions and will include
Fun
Games
Team work
Decision making
Gross & Fine motor skill development
Basic cricket specific instruction (U9 only)
| | | | | | | |
| --- | --- | --- | --- | --- | --- | --- |
| Age Group | Day | Start | End | Excluding | Time | Price |
| Open Age Seniors | Monday | 13/01/2020 | 23/03/2020 | 17/02/2020 | 18.30 - 20.00 | £150 |
| Under 11 | Monday | 13/01/2020 | 23/03/2020 | 17/02/2020 | 17.00 - 18.30 | £150 |
| Under 13 (FULL) | Tuesday | 14/01/2020 | 24/03/2020 | 18/02/2020 | 17.00 - 18.30 | £150 |
| Under 15 & 17 (FULL) | Wednesday | 15/01/2020 | 25/03/2020 | 19/02/2019 | 17.00 - 18.30 | £150 |
| Under 14 (Girls) | Thursday | 16/01/2020 | 26/03/2020 | 20/02/2020 | 17.00 - 18.00 | £69 |
| Women 14+ | Thursday | 16/01/2020 | 26/03/2020 | 20/02/2020 | 18.00 - 19.00 | £85 |
| Under 7 | Friday | 17/01/2020 | 27/03/2020 | 21/02/2020 | 17.00 - 18.15 | £85 |
| Under 9 (FULL) | Friday | 17/01/2020 | 27/03/2019 | 21/02/2020 | 18.15 - 19.30 | £85 |
| Under 11 & 13 (FULL) | Friday | 17/01/2020 | 27/03/2019 | 21/02/2020 | 19.30 - 21.00 | £150 |
| Under 7 & 9 | Sunday | 19/01/2020 | 29/03/2020 | 23/02/2020 | 08.45 - 10.00 | £85 |
| Under 11 & Under 13 | Sunday | 19/01/2020 | 29/03/2020 | 23/02/2020 | 12.00 - 13.30 | £150 |
| Under 13 & Under 15 | Sunday | 19/01/2020 | 29/03/2020 | 23/02/2020 | 13.30 - 15.00 | £150 |